【Social Service Support Comm】Please support our charity bazaar!
ーSocial Service Support Commー
Please support our charity bazaar!
About Charity Bazaar
The Charity Bazaar sells a wide array of handmade items contributed by volunteers as well as brand new products and unwanted new goods donated by individuals and companies. Proceeds from the sales will be donated to welfare organizations in Singapore. Please lend your support to the Charity Bazaar!
~New and unwanted items are welcome!
Please use the Box of Hope (donation collection box) located next to the Clubshop (1F).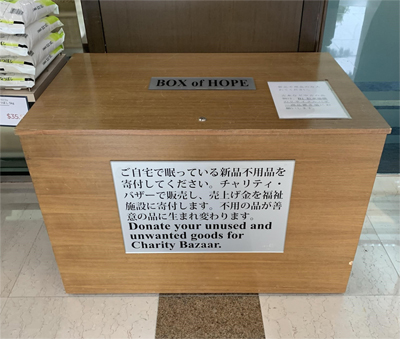 *Food, cosmetics and other liquid items, hygiene items (masks, diapers, breastfeeding pads, sanitary items, etc.), and knives (knives, scissors, needles, etc.) cannot be donated.
*Used and unwanted items will not be accepted at the Charity Bazaar, please go to the recycling bazaar cage located at the back of the B1 parking lot.
Inquiry
Social Service Support 
Charity Bazaar Committee
jas.charitybazaar@gmail.com